Many people in different industries nowadays are using concrete pipes. It is ideal for long-lasting pipe upgrades because of its inherent strength, durability, and risk-averse to an appropriate placement. The lifespan cost of concrete pipe proves that it is economical and must be demanded infrastructure of the future. Concrete pipes have different advantages including superior corrosion resistance, easy installation, sustainability, environmentally friendly, and low maintenance costs.
Because of these great advantages concrete pipes have become a widely-known choice for Culverts, Sanitary sewers, Storm Sewers, Underground Detention, and sometimes water pipelines. Concrete pipes are suitable for different loading conditions and are being used for a long time primarily in the wastewater industries and the water.
Check out the great advantages of using concrete pipes
Durability
In today's economic environment, designing for sustainable and long-term project performance is crucial for Engineers. Unlike some other pipe materials, the concrete pipe has an accomplished track record of performance. A concrete pipe will not tear, rust, deflect or buckle, or burn. It is also resistant to most environmental elements.
Strength
Concrete pipe is known to be the strongest available pipe and can be created and tested to achieve any loading condition. Concrete pipe unlike flexible pipe has the majority of the needed strength built into the pipe. And is lesser dependent upon the installation of the pipe.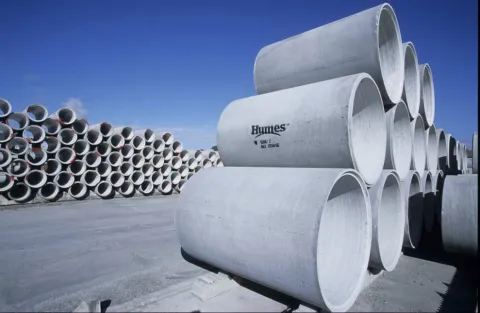 Infallibility
You must consider some pipes that will last for a long time and won't leak a year into getting installed. With concrete pipes, you are guaranteed that your pipes will stay for years to come. This is vital in terms of functionality and finances affordable pipes would entail redoing the pipework every couple of years. With the advancement of technology, this material is reliable compared to any materials manufactured before. The enhancement and technology used in concrete pipes provide them with more longevity.
Simple Installation
The strength of concrete makes installation a lot easier. This alleviates any accountability on the contractor, technician, and installer. The overall costs of concrete pipes are lower because the process is simple.
Considerations for the environment
Concrete pipes are one of the most environmentally safe pipes available, unlike synthetic materials. This is because of different reasons like longevity, meaning you don't have to produce more pipes frequently. Another primary reason is that it's made from recyclable or naturally occurring materials that are available locally, lowering the amount of waste.
Collaborative Performance
The structure of these long-lasting pipes allows them flexibility in design, whether you prefer water-tight joints or soil-tight. They also offer quality performance based on the appropriate integrity by giving superior durability against corrosion. It is impressive considering it's being used worldwide on various applications and scales. Such as seizing gas lines during any emergencies.